Mineswine
Hello Piglets,

August 25, (Monday) we are going to be doing a complete factions reset. There has been some recent abuse and hacking that have given people the ability to get unlimited resources. So we feel the need to do a complete world and economy reset to give everyone a fresh and equal start. In addition to the reset, we will be adding a few new features to the factions server. Such as, more donor perks, auctions, casino, and more!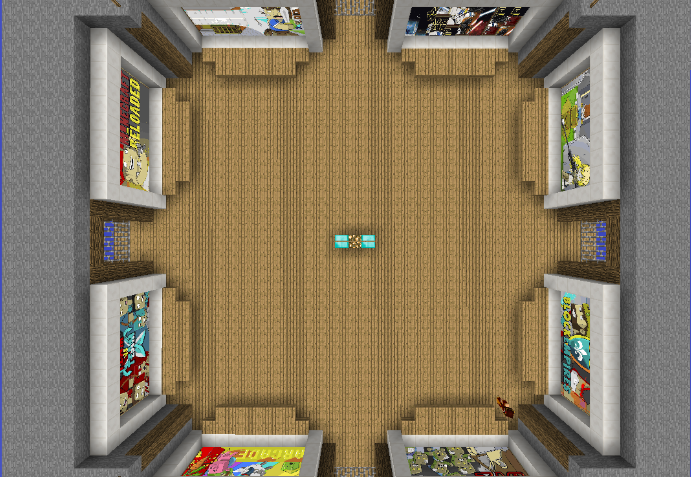 Recently we've been testing out some new features to put in our server lobbies. One of those features is custom map images for server logos. You might be thinking "maps take way to long to load though!". By some magical code we've figured how to make maps instantly load upon joining the server.

However, by loading all the maps instantly it can be heavy performance wise on the client. This is where we need your help to test out this new feature. We've setup a temporarily test lobby with these features on it which you can access by typing /testlobby in any of the main lobbies on the server. We'd much appreciate it if you could give us your feedback on how your performanced is affected upon joining the server. For example, are you using optifine, how long did you lag, does your FPS drop, client freezes, walking around causes lag, etc.

Notice: Some of the images on the walls are from previous games we've removed from the server, they're are not new games!...
Hey everybody!

During tonight's maintenance we made some major changes to our hosting and protection. Due to the recent problems with latency and lag we've changed to a completely new server hoster. In addition, we've also changed our DDoS protection provider that has more wide spread data centers across the globe. All of these changes should greatly increase the performance and general experience across the server.

Please let us know if you have any problems or having any latency and/or lag problems.

A lot of new forum/website and surprise updates will be coming later in the week!
Elimination (new beta minigame, expect bugs!)
Exciting new minigame, 4 teams spawn in an arena with a fight to the death.... but, with a twist
For the first phase of the game, all the teams are invisible to one another, but you can still be killed (with respawns)
Mid way through the game an Iron Boss spawns, with epic loot that you get if you and your team work together to kill him
This is a new game, and we need testers! Please test it out, and if you find any bugs, report them on the forums.
​
Lobby Updates
All server logo signs have been revamped
Server NPC's have been updated
Arcade Solo Compass servers (coming soon)
SGRL(MCRL) Updates
UMP45 has been nerfed.
Thompson has been nerfed.
Minor map fixes.
Arcade
Many minor kit fixes and balances.
Minor map changes.
Community
-----

-----

-----

Happy 4th Of July Piglets!

-----

-----

------



​
Along with this day of independence, we are going to be celebrating by having a 50% off sale for the entirety of this weekend!

We have also added a special "Firework Blaster" hub item you can buy from the Lobby Apparel Shop. If you don't have the porkchops, don't worry! You can still join in on the celebration by using the temporary special lobby "Booty Blaster" firework item!
Hope you all have a fantastic day!
So, it's been a while since we've made an update... here's what's happening!
New factions spawn:
Take a look at the picture above, that is just a small preview of the awesome work done by our very own build team on the new custom made factions spawn. Please give the neareast builder a big MineSwine oink for all their hard work! This thing is amazing! (Plus, it fixes tons of bugs with the old spawn
)
A secret game... coming soon ;o
That's right, our crack team of devs has been hard at working pumping out the next huge hit game soon to hit the MineSwine hub! You want a hint what it's going to be? Well, when the MineSwine twitter (
https://twitter.com/mineswinemc
) hits 50 followers, we will tweet out a big hint, so be sure to follow us!
Mining dead... coming soon
With the flurry of new developement, Miningdead building has gone a bit slow. However, the build team is back to work cranking out the map, hopefully we will have the game released by early...

UPDATES UPDATES UPDATES!​
Hey there piglets! So over the past few weeks insanehero and dillyg10 have been working their tiny pig hooves to the bone making some awesome content for you guys! Here is what we have to show:

Factions server:
We know you guys have been begging for us to finally add factions to the hub, so after countless hours of building, coding, and grinding we have finally added it! It's great fun, and I can't wait to see you guys on there. Incase you're skeptical of our work... here's a sneak preview of the spawn, hope you guys enjoy
.
Minewars updates:
Our build team has been busy at work creating an awesome new map for Minewars... and finally here it is...
MyGeeto
the city in the clouds
We've also made some major updates to the resourcepack, getting some help from some awesome...
The MiningDead
ALPHA!
(Donor Only)
​
Imagine a world.... INFESTED with zombies. You are left in the wild to survive, thrive, make friends, defeat foes, and make the world your own. Don't worry about your arsenal, you have all of the guns you've trained with in Survival Games with Guns... along with a few others. The ammo is limited, found only scarcely in chests scattered along the custom made map. Worried about not being able to get around? Then look no further than abandoned cars ready for you to steal... so long as you have the fuel. The nights are brutal, the days are endless, the real question is... who will survive the onslaught?

This server is made for PIGLET and BOAR donors on ANY server only! I really hope you guys come join us, and of course... happy slaying

Hello piglets!

Join us this weekend to take part in the most epic event yet! We will be opening three 72 player SG+Guns event servers this Saturday-Sunday. They will be located in the large tree in the main lobby, or in the compass.

BUT WAIT! There's more! We will also be having a 50% off sale and double porkchops!

Hope to see you there!
Hello Piglets!
In this update, all the guns and other weapons have all been retextured from 16x16 to 32x32. This has been done to show more detail in guns and increase the game-play. In addition to the retexture, over 10 new weapons/utilities have been added.
Get the new resourcepack here: http://mineswine.com/index.php?threads/mineswine-resource-packs.7/

Or have it auto-update in-game!
New Visuals

- All melee weapons have been customized: Wood Sword -> Small, Stone Sword -> Crowbar, Iron Sword -> Chainsaw (Makes noises), Diamond Sword -> Katana.
- All armors are now military themed. (Become a sneaky bush with chainmail!)
- All guns and utilities are now higher resolution.
Gun Balances

- UMP-45 damage and fire rate has been reduced.
- Explosive Launchers (RPG, SMAW, ETC.) now actually do damage.
- Sniper bullets now visually shoot straight.
- M93 Raffica has been replaced with the KRISS Vector.
- Model 1887 now fires less...