Mineswine
Some of you have been asking recently what's happening with us and questioning the future of the server. So I'm here to shed some light on the situation.

Yes, me and dilly haven't been as active as we used to be. Part of it has been due to school and another is that we've been unhappy with the way the server has turned out and how we have designed certain things. When we first started on the server we wanted to make everything ourselves without the use of public plugins or code. Which has done good for us (ex. custom server selector and games), and it's also done some bad (ex. permissions crashing) At the moment, the server is quite outdated on our frontend (User interface/server selection) and backend (Permissions/Server to server communications/game logic/etc.) which has been causing a lot of bugs and issues.

So you may be asking yourself...why am I telling you all of this? I'm proud to announce that we've been working on a massive server overhaul for the past few weeks. We are...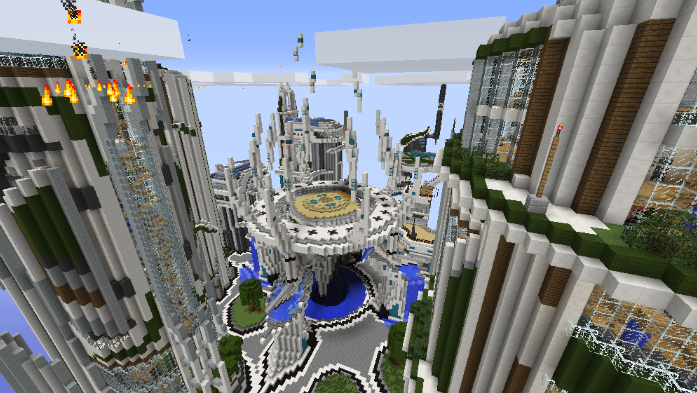 Survival Games with Guns: The Mega Update!
​
General:
- You can now vote for from a choice of 5 different maps during the lobby.
- Minecraft 1.8 Titles have been added to various different messages in the game to increase user experience.
- Fixed a few grammar mistakes in messages.

New Maps:
- Carbon

- Hazard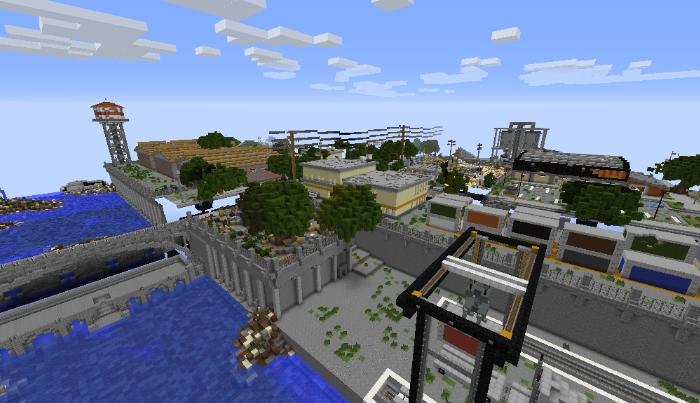 Gun Changes:
- *NEW* DMRs have been added to the game. (SG550, MK14, G3A3)
- Flamethrower: New effects and firing mechanics
- RPG: Texture update
- C4: Texture update
- Gun Sounds are now global, that means you are able to hear Gun shots from a certain distance.
-
Grenade Launchers on the M4a1 and M16 have been removed.
- Bullet drop has been removed from all guns except shotguns. Meaning the bullet will travel in a...
Hey piglets! It may seem that we've been kinda quiet these last few weeks, but we've been working our pigtails off to brimng you guys some awesome stuff!
Halloween sale! 25% off all items.
That's right! Everything is 25% off in the store. Grab up some treats while you can!
Old new spooky game... coming soon!
There's been a game lurking in the shadows of MineSwine for a while, that we decided should have some life brought back to it. I can't give away too many details yet,but it should be an extra scary great surprise!
Scary lobby updates [soon]
We have our build team hard at work spookifying our lobby. There also should be some fun new pets and items you can buy that are haloweentastic. Look for them in the lobby over the next few days.
Hello Piglets,

August 25, (Monday) we are going to be doing a complete factions reset. There has been some recent abuse and hacking that have given people the ability to get unlimited resources. So we feel the need to do a complete world and economy reset to give everyone a fresh and equal start. In addition to the reset, we will be adding a few new features to the factions server. Such as, more donor perks, auctions, casino, and more!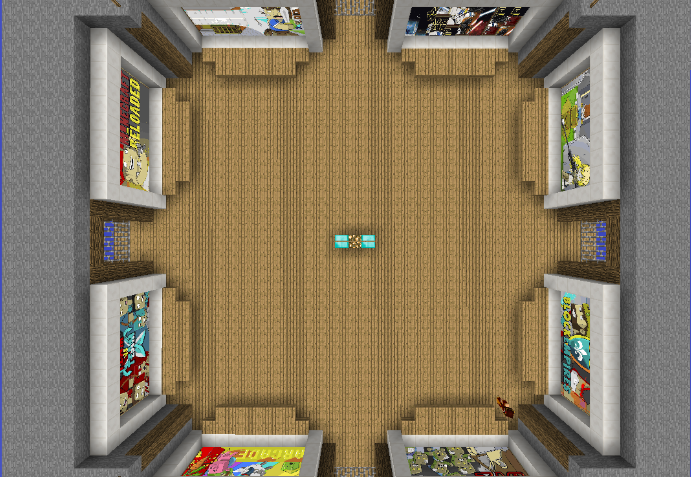 Recently we've been testing out some new features to put in our server lobbies. One of those features is custom map images for server logos. You might be thinking "maps take way to long to load though!". By some magical code we've figured how to make maps instantly load upon joining the server.

However, by loading all the maps instantly it can be heavy performance wise on the client. This is where we need your help to test out this new feature. We've setup a temporarily test lobby with these features on it which you can access by typing /testlobby in any of the main lobbies on the server. We'd much appreciate it if you could give us your feedback on how your performanced is affected upon joining the server. For example, are you using optifine, how long did you lag, does your FPS drop, client freezes, walking around causes lag, etc.

Notice: Some of the images on the walls are from previous games we've removed from the server, they're are not new games!...
Hey everybody!

During tonight's maintenance we made some major changes to our hosting and protection. Due to the recent problems with latency and lag we've changed to a completely new server hoster. In addition, we've also changed our DDoS protection provider that has more wide spread data centers across the globe. All of these changes should greatly increase the performance and general experience across the server.

Please let us know if you have any problems or having any latency and/or lag problems.

A lot of new forum/website and surprise updates will be coming later in the week!
Elimination (new beta minigame, expect bugs!)
Exciting new minigame, 4 teams spawn in an arena with a fight to the death.... but, with a twist
For the first phase of the game, all the teams are invisible to one another, but you can still be killed (with respawns)
Mid way through the game an Iron Boss spawns, with epic loot that you get if you and your team work together to kill him
This is a new game, and we need testers! Please test it out, and if you find any bugs, report them on the forums.
​
Lobby Updates
All server logo signs have been revamped
Server NPC's have been updated
Arcade Solo Compass servers (coming soon)
SGRL(MCRL) Updates
UMP45 has been nerfed.
Thompson has been nerfed.
Minor map fixes.
Arcade
Many minor kit fixes and balances.
Minor map changes.
Community
-----

-----

-----

Happy 4th Of July Piglets!

-----

-----

------



​
Along with this day of independence, we are going to be celebrating by having a 50% off sale for the entirety of this weekend!

We have also added a special "Firework Blaster" hub item you can buy from the Lobby Apparel Shop. If you don't have the porkchops, don't worry! You can still join in on the celebration by using the temporary special lobby "Booty Blaster" firework item!
Hope you all have a fantastic day!
So, it's been a while since we've made an update... here's what's happening!
New factions spawn:
Take a look at the picture above, that is just a small preview of the awesome work done by our very own build team on the new custom made factions spawn. Please give the neareast builder a big MineSwine oink for all their hard work! This thing is amazing! (Plus, it fixes tons of bugs with the old spawn
)
A secret game... coming soon ;o
That's right, our crack team of devs has been hard at working pumping out the next huge hit game soon to hit the MineSwine hub! You want a hint what it's going to be? Well, when the MineSwine twitter (
https://twitter.com/mineswinemc
) hits 50 followers, we will tweet out a big hint, so be sure to follow us!
Mining dead... coming soon
With the flurry of new developement, Miningdead building has gone a bit slow. However, the build team is back to work cranking out the map, hopefully we will have the game released by early...

UPDATES UPDATES UPDATES!​
Hey there piglets! So over the past few weeks insanehero and dillyg10 have been working their tiny pig hooves to the bone making some awesome content for you guys! Here is what we have to show:

Factions server:
We know you guys have been begging for us to finally add factions to the hub, so after countless hours of building, coding, and grinding we have finally added it! It's great fun, and I can't wait to see you guys on there. Incase you're skeptical of our work... here's a sneak preview of the spawn, hope you guys enjoy
.
Minewars updates:
Our build team has been busy at work creating an awesome new map for Minewars... and finally here it is...
MyGeeto
the city in the clouds
We've also made some major updates to the resourcepack, getting some help from some awesome...