Mineswine
Hey everybody,

I know for about the last half year, I've been pretty much non-existent on the server. Which I would like to formally apologize for.

There were multiple reasons supporting by disappearance. For starters, I was honestly getting bored of this game, I've been running minecraft servers for the past 5-6 years, some of you might even remember me from the glorious BlockEmpires days. I no longer had the ambition and inspiration that I originally had when I first started running servers. It become obvious to me that I needed a break from the game. Thankfully, Dilly still stuck around for some bug fixes and updates well I was absent (He's a boss). Secondly, over the past year or so I've been working on my software development skills and looking for a job where I can put them to good use. Luckily, I ended up getting a job about 5-6 months ago, and it's a pretty awesome gig so far. Lastly, I and Dilly were given a lot of false hope from some fairly large organizations that wanted...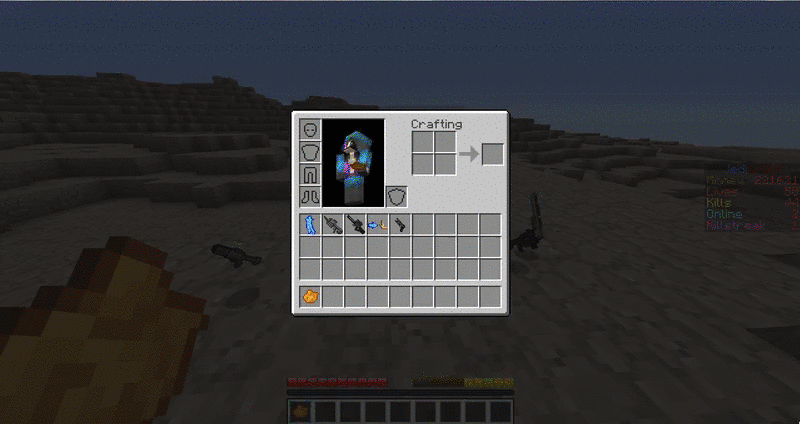 30% OFF SALE!
TODAY UNTIL JULY 4TH
​
NEW JEDICRAFT CRATES:
FIRE CRATES
NEW FORCE ONLY IN FIRE CRATES:
FORCE FIRE
MAKES A HUGE SPHERE THAT PUTS ANYONE IN ITS RANGE IN FLAMES!
UPCOMING SGRL KIT:
INFERNO
TERRAIN FOR NEW JEDICRAFT MAP: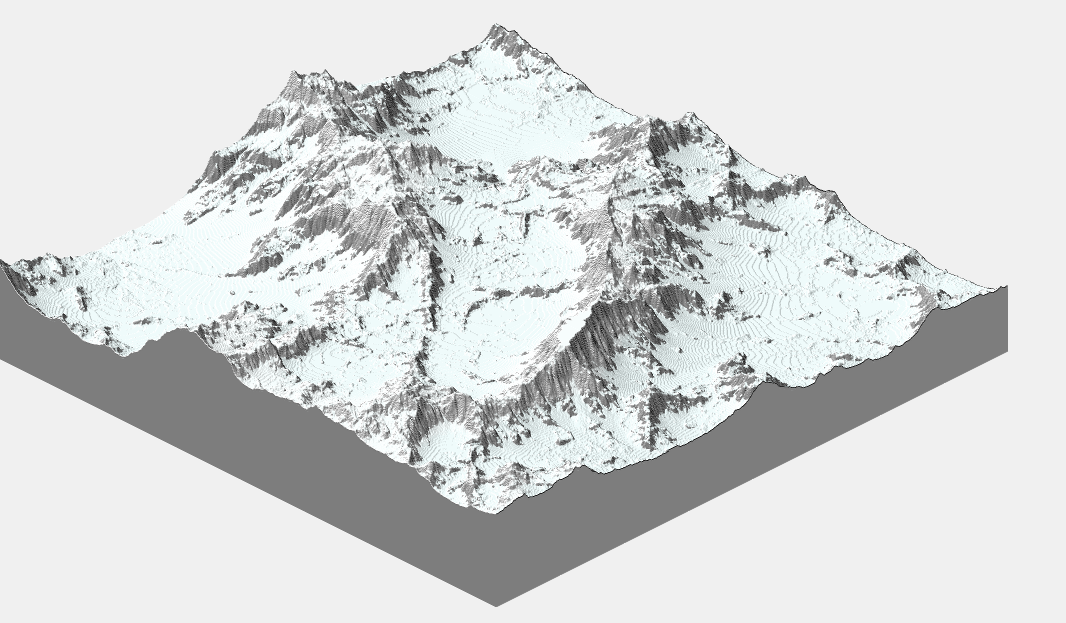 (yeah that's right baby, time for some hoth action!)
FACTIONS WITH GUNS IS GOING GOOD TOO. EXPECT A RELEASE LIKE, IN A WEEK OR 2!
STUFF'S HAPPENING PEOPLE, I DONT' HAVE TIME FOR FANCY WORDS!!!!!!
ALSO SGRL ELO RESET IS COMING UP, AND STARTING JULY WE'RE DOING COMPETITION FOR $$$ DETAILS COMIN UP.
OINK AWAY PIGGGGYYS!!!
EDIT: I forgot, I also fixed a bunccchhh...
Hey little oinkers, I've got some stuff to tell you. Lots of stuff. Like... well...

CREATIVE IS BACK, and is about as good as creative can get! This server is gonna be lit, hang out with your virtual friends build a little, rp a little, whatever suits your fancy. But as a lil sidenote: we will pick builders from this server for the build team. Which means if your builds are good, you have the chance to get a rank!
Yeahp, we've done some sweet stuff to SGRL. If you login, you'll notice that you got 5x times the hearts - and no that's not your hacked client acting up (
if it is please see the nearest staff member so we can quickly ban you tyvm)
. We've added this new 100 health system to try and balance the guns better, over the next...
Hey guys! This isn't a scene from next year's star wars film 8 (although it should be!!)

It is, in fact, a NEW GAMEMODE.

But before I get into all the exciting things, I just wanted to say sorry. We didn't think that chaos mode would be quite as chaotic as it was, and we're all really sorry that some people didn't enjoy it, so we've got some awesome stuff to make it up to y'all.

You may have remembered me saying a looooong time ago that we were planning a new JediCraft map. This isn't it. It is almost finished, but that's old news now!

We are making a JediCraft-based Quests gamemode.

Soon you'll be able to follow the path of the Jedi and learn to use the force, build a lightsaber, fight mandalorians, pirates, sith and loads more cool enemies in a non-linear story where you can choose to focus on what you're best at, or balance your skills.

We're planning multiple paths, weapon systems, more lightsabers, a couple of new forces (for this) and of course some...
Quick announcement that the chaos beta is live. Check it out (and expect some bugs
). Report bugs here, to staff, or in small letterbombs addressed to dilly. Let us know what you think!
The transition to 1.9 has been rocky to say the least. We have seen a dip in player count, and a few of the servers have been experiencing bugs. I believe this transition should be coming to a close and everything will stabilize in MC and the community (although Mojang can surprise me). Now that it is all over, we have been looking towards the future. And here's some of what is coming up...

Jedicraft Chaos mode
Jedicraft has had some issues recently. Dupe bugs, economy issues, and it seems like everyone is running around OP as ever. That's why we are announcing Chaos mode for Jedicraft.

Until the release of the new map for Jedicraft (which should be within the next month), the way you play Jedicraft will change in a big way. We are adding a 3 life system to Jedicraft, and after your 3 lives are gone, you are banned from the server for 24 hours. Additionally, you will be rewarded for the amount of kills you get during your 3 lives with special prizes...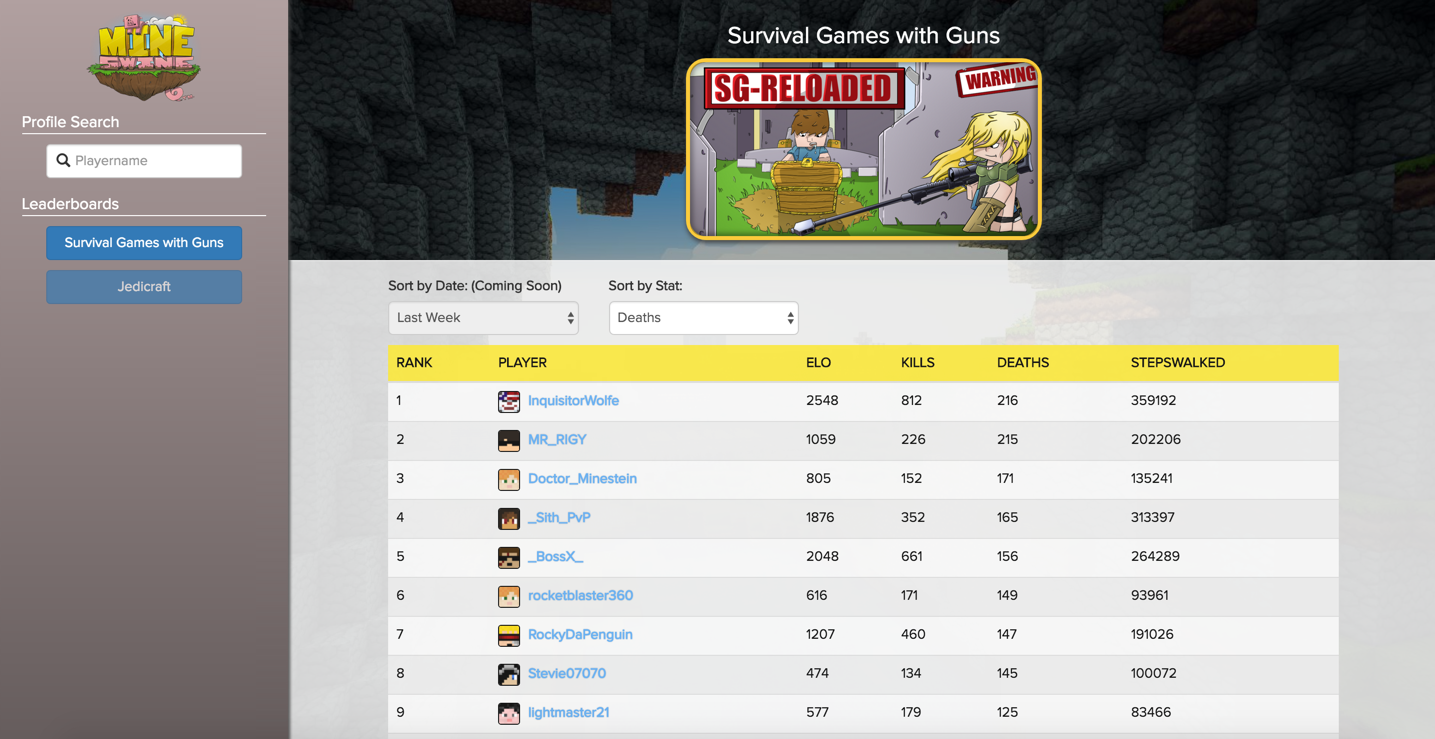 I figured I'd come back with a bang....
The official MineSwine stats site has been released!
Stats: http://stats.mineswine.com/leaderboard/sg-guns!
Currently we are only tracking stats for Survival Games with Guns, however expect more game-modes to be added soon!
Recent match tracking and date sorting will also be added to the site near the end of the week. Individual player gun stats will also be added sometime soon...
NOTE:
Site is not yet formatted for mobile, things will look weird.
Hey guys! This is a quick announcement. Just want to let you know that we are updating to Minecraft 1.9 tonight (this will be 1.9 only... people with 1.8 #getwithit).
Also, SGRL leagues beta will be coming out. There are a few changes from the previous post, so here's some of the release notes:
SGRL leagues will be on every SGRL server. You will play games and earn ELO (ranking up) based on your performance.
The leagues will have different tiers, and in those tiers different levels.
Your league will show up next to your nametag in chat, as well as your leaderboard rank (if you are 1-50).
Every month, we will have a leaderboard in SGRL lobbies (and on a stats website, coming soon!) that shows the top players of that month. This leaderboard is based on the amount of ELO gained/loss in that month.
The top 3 players of each month will receive cash prizes (if this doesn't work for that player, we can work out some sort of equivilant trade in steam cash/amazon...
As some of you may or may not remember, 2 or so months ago I made an announcement saying that if we got 700 users on at once I would drop whatever I was doing and go remake jedicraft / a new gamemode. Well, I ended up doing that anyway even before we hit 700... and now, jeeze. In the short few months, we have nearly doubled our daily playerbase, and that is freaking exciting. I guess the next goal I have for the server is to hit 1000 online users, and we're gonna do it! Dilly's got some tricks up his sleeve, and when we do, well we're throwing a hogwild party. Now... onto the good stuff...
<3 VALENTINE'S DAY CRATES!! <3
For our next holiday crate, we are going to add some great stuff for you guys to get. Here's an overview:
2 new tracers:
Heart tracer
Red and pink tracer
New force:
Force love: (Heal your target by 3 hearts, playing an...
FIRST! We are sorry for the downtime recently. We have been doing a lot of updates, and they have been making the server sad
. We will continue to try and make sure the server stays up. Now for the big announcement...
SGRL Ranked play!

It's been nearly 3 years since we first released SGRL and it is still our most popular gamemode. The fast paced gameplay combined with the unique weapons and beautiful looking maps have helped contribute to this success. But one of the biggest reasons why SGRL has continued its popularity is its competitive factor. Players fight day and night just to try and get a win, best their friends, or take down a DesertEagle.

We want to expand on this competition with SGRL Ranked play. What will this be exactly? Well...

SGRL ranked play will be a separate server from normal SGRL that will pair players of similar skill level to fight.

Players will rank up through "Leagues" (S/A...