Mineswine
​
General:
Tournament holograms in the lobby have been removed and replaced with informational MineSwine links!
Fixed a bug where Boars were only getting X2 Bacon with the Piglet Msg. You're now given the correct X3 Bacon and the Boar Msg.
Fixed a bug for Piglet and Boars that caused them not to be able to join full game servers.
Fixed /lobby or /hub only working half the time.
Fixed an issue with the server store which was updating new purchased packages to the server every 5 hours, instead of every 5 minutes.
Redesigned the server store.
Added Monthly ranks to the store and modified rank pricing.
Boar votes now count as 3 for map voting. Piglet votes now count as 2 for map voting.
Other random server improvements and performance increases.
Added vines to the leaves in the game lobbies so players can climb up them from the water.
Changed 'Staff Member' banner color to blue on the forums. Staff rank banner colors...
Winners
1st
- FanMilk with 83 Wins
2nd
- RmxzPvP with 53 Wins
3rd
- teeb1234 with 52 Wins
Honorable Mentions
Arcanine50cal - 112 Wins (Staff)
jackalantern45 - 51 Wins
MaverickDog - 45 Wins
BukLau21 - 42 Wins
LEGO_TNT - 40 Wins
Juan4002 - 27 Wins
minecraft1012 - 24 Wins
nitro_nator123 - 21 Wins
cool__dude - 20 Wins
CorporalBLOBER - 19 Wins
​
If you have won something please contact me via PM and send me your address so we can get you your prizes!
Thanks to everyone for coming out and competing in the first ever MineSwine tournament! There will be more sometime in the future! Obviously as this was the first time, there was some bugs with the stats showing up in the lobby but these will be fixed by the time we have our next tournament!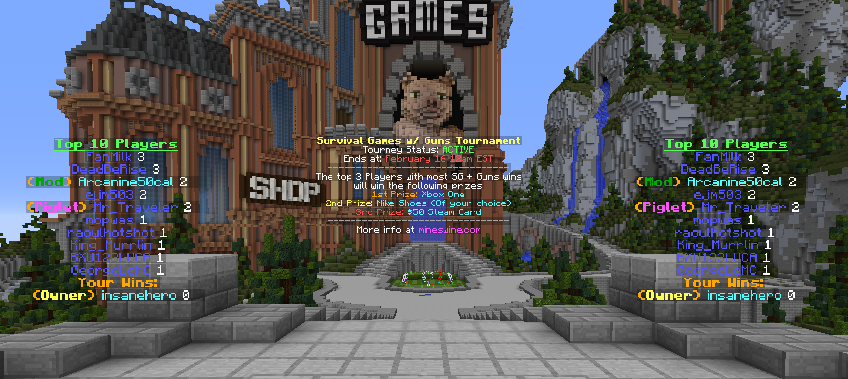 Check your wins in the main hub lobbies! These stats are only temporary during the tournament, in the next few updates will be adding a full stat tracking system server-wide.
This tournament has been changed to only a Survival Games with Guns tournament and not normal SG.
The tournament will end on
February 16 @ 12am EST
. (End of the day of February 15)
Prizes:

In order to claim your prize you must be willing to give out your mailing address. We assure you your info will be kept safe.
1st Prize
- Xbox One
2nd Prize
- Nike Shoes (Of the winners choice)
3rd Prize
- $50 Steam Card
In response to various reports of 'fly hackers' on our SG servers we've made our anti-fly mechanism stricter as preparation for the tourney.
Any players found using cheats (hacks) or any exploits will be disqualified from the tournament.
Mineswine Survival Games TOURNAMENT!

February 14-15​
In the recent update new update the servers in-game currency is now known as 'Coins'. However, we would like to hear from the community to see what you guys prefer.

Cast your vote in the poll above to help us find the best name for our servers currency!

If you have your own idea for our servers currency name post it below and I'll add it to the poll.
Many of you have been waiting a long time for this, and it's finally out! As of today the server update has been released!
General Changes
The permissions system has been overhauled. Ranks now instantly update along with prefixes and user name plates.
Fixed a major bug where permissions would randomly get dropped server wide.
Rank prefixes now have a new format and color scheme.
Porkchops have been renamed to Coins (We may revert the name back to Porkchops if the community wants)
Unfortunately, due to our major changes in our server infrastructure in the update all previous Porkchop player data counts and kits have been lost. We sincerely apologize for this, but there was no other way to keep the old data when updating to the new infrastructure.
Party system has been reworked. The UI should now be at lot easier to navigate and manage.
Game waiting lobbies have been rebuilt and are now the same lobby for all games to keep consistency.
...

​
As you may have noticed we've made a lot of changes to the website. The new website is just another part of the complete server remodel which is coming soon! Mineswine also has a new logo!
Website Remodel: Part 1
[COMPLETED]
- New logo
- New theme for the general forum and website body
- Updated color scheme to match the new logo
- Staff members now have colored names to show their respective rank group.
- Site header has been replaced with a new custom design
- The server player count is now shown in the header
- Various performance tweaks
Coming soon...
Website Remodel: Part 2
[COMPLETED]
- Applications, Ban reports/appeals, and purchase issues are now private to only the posting member and staff members.
- Server shop updated to fit the new site
- Achievements
- Signature size limits
- Re-add teamspeak sidebar module
- Compatible with mobile
- And more!
Let us know what you think about...
Some of you have been asking recently what's happening with us and questioning the future of the server. So I'm here to shed some light on the situation.

Yes, me and dilly haven't been as active as we used to be. Part of it has been due to school and another is that we've been unhappy with the way the server has turned out and how we have designed certain things. When we first started on the server we wanted to make everything ourselves without the use of public plugins or code. Which has done good for us (ex. custom server selector and games), and it's also done some bad (ex. permissions crashing) At the moment, the server is quite outdated on our frontend (User interface/server selection) and backend (Permissions/Server to server communications/game logic/etc.) which has been causing a lot of bugs and issues.

So you may be asking yourself...why am I telling you all of this? I'm proud to announce that we've been working on a massive server overhaul for the past few weeks. We are...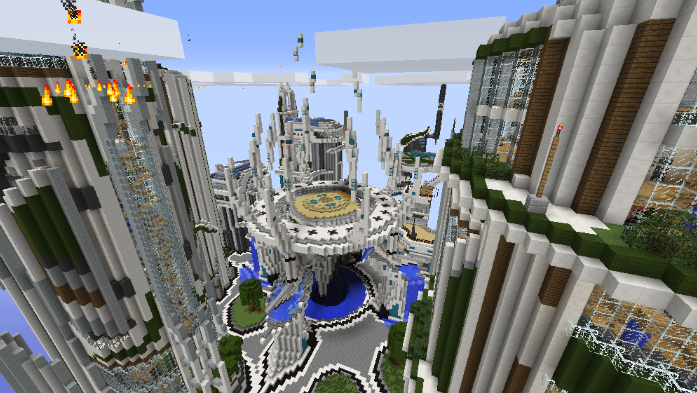 Survival Games with Guns: The Mega Update!
​
General:
- You can now vote for from a choice of 5 different maps during the lobby.
- Minecraft 1.8 Titles have been added to various different messages in the game to increase user experience.
- Fixed a few grammar mistakes in messages.

New Maps:
- Carbon

- Hazard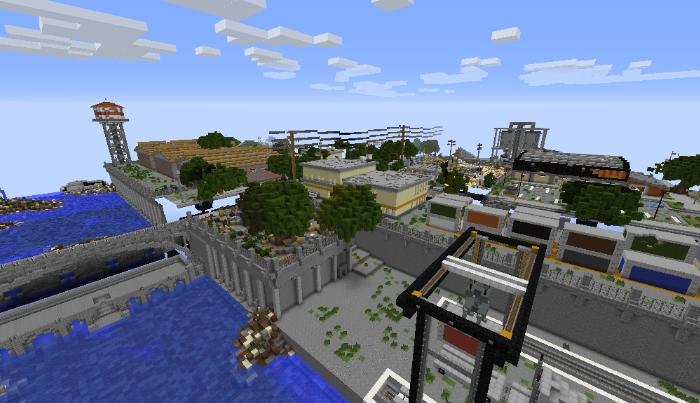 Gun Changes:
- *NEW* DMRs have been added to the game. (SG550, MK14, G3A3)
- Flamethrower: New effects and firing mechanics
- RPG: Texture update
- C4: Texture update
- Gun Sounds are now global, that means you are able to hear Gun shots from a certain distance.
- Grenade Launchers on the M4a1 and M16 have been removed.
- Bullet drop has been removed from all guns except shotguns. Meaning the bullet will travel in a continuous path...
Hey piglets! It may seem that we've been kinda quiet these last few weeks, but we've been working our pigtails off to brimng you guys some awesome stuff!
Halloween sale! 25% off all items.
That's right! Everything is 25% off in the store. Grab up some treats while you can!
Old new spooky game... coming soon!
There's been a game lurking in the shadows of MineSwine for a while, that we decided should have some life brought back to it. I can't give away too many details yet,but it should be an extra scary great surprise!
Scary lobby updates [soon]
We have our build team hard at work spookifying our lobby. There also should be some fun new pets and items you can buy that are haloweentastic. Look for them in the lobby over the next few days.