Mineswine
So what exactly do we have planned?

1.
JEDICRAFT!!!

Need I say more?
We've got a new JediCraft map, as well as a whole new 3D resource pack and new guns. We've scrapped the bad stuff and added in loads of cool things to replace them!
Sick of the people with all the duped stuff? You can laugh at them now, everything is being reset.
The date was set at October the 1st, but you can blame the forum hackers and the DDoSers because we've had to push it back a bit. Make sure to go and hate on them for it because I was really looking forward to JediCraft this week.
2.
More games
So you guys all voted overwhelmingly in favour of giving me a pay-rise...
I mean, you voted in favour of lots of new and exciting games!
We added HC:RL which is amazing, (until I got raided
). We are bringing back Factions with Guns,...
First off I'd like to apologise for releasing the official statement so late, but I've only just accessed the admin panel myself.
You might notice the forums have gone back in time a little...
To start with, I'd recommend
changing your password
, they are encrypted but it's possible that some data was gained. They have said that they have a list of logins, but Jason doubts that this is true.
The server downtime is being caused by repeated DDoS, it's separate to the forums problem.
The forums were targeted by a small group of hackers. They found my admin key (I'll explain later) and used it to delete all of the data they could find.
Jason made the decision to roll back all data to the previous backup (some time in 2014) which is why most of you lost your accounts.
We had been planning some work on the forums as-is so stay tuned for more updates.
I am working to repair as much of the damage as I can as well as tightening security.

​
As you may have noticed we've made a lot of changes to the website. The new website is just another part of the complete server remodel which is coming soon! Mineswine also has a new logo!
Website Remodel: Part 1
[COMPLETED]
- New logo
- New theme for the general forum and website body
- Updated color scheme to match the new logo
- Staff members now have colored names to show their respective rank group.
- Site header has been replaced with a new custom design
- The server player count is now shown in the header
- Various performance tweaks
Coming soon...
Website Remodel: Part 2
[COMPLETED]
- Applications, Ban reports/appeals, and purchase issues are now private to only the posting member and staff members.
- Server shop updated to fit the new site
- Achievements
- Signature size limits
- Re-add teamspeak sidebar module
- Compatible with mobile
- And more!
Let us know what you think about...
Some of you have been asking recently what's happening with us and questioning the future of the server. So I'm here to shed some light on the situation.

Yes, me and dilly haven't been as active as we used to be. Part of it has been due to school and another is that we've been unhappy with the way the server has turned out and how we have designed certain things. When we first started on the server we wanted to make everything ourselves without the use of public plugins or code. Which has done good for us (ex. custom server selector and games), and it's also done some bad (ex. permissions crashing) At the moment, the server is quite outdated on our frontend (User interface/server selection) and backend (Permissions/Server to server communications/game logic/etc.) which has been causing a lot of bugs and issues.

So you may be asking yourself...why am I telling you all of this? I'm proud to announce that we've been working on a massive server overhaul for the past few weeks. We are...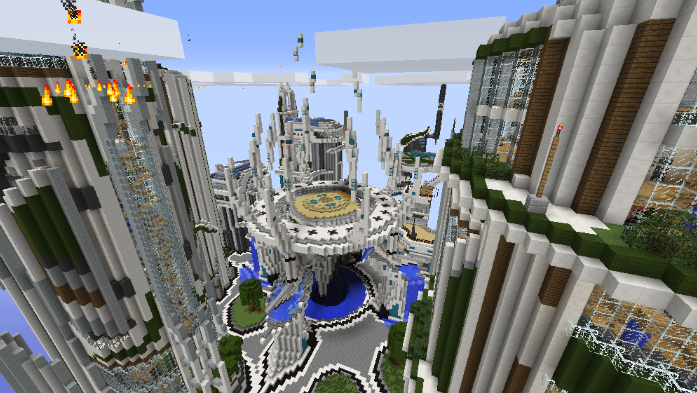 Survival Games with Guns: The Mega Update!
​
General:
- You can now vote for from a choice of 5 different maps during the lobby.
- Minecraft 1.8 Titles have been added to various different messages in the game to increase user experience.
- Fixed a few grammar mistakes in messages.

New Maps:
- Carbon

- Hazard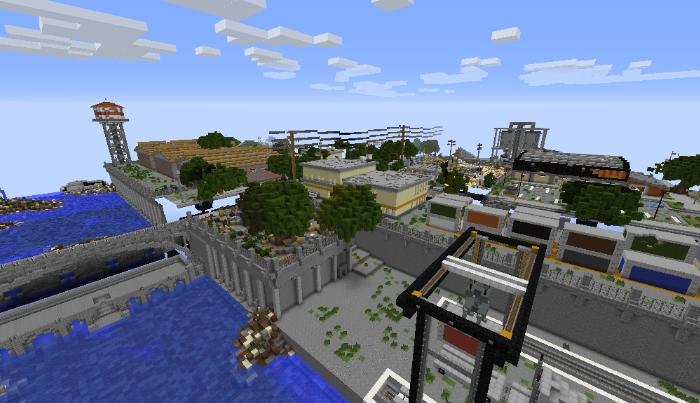 Gun Changes:
- *NEW* DMRs have been added to the game. (SG550, MK14, G3A3)
- Flamethrower: New effects and firing mechanics
- RPG: Texture update
- C4: Texture update
- Gun Sounds are now global, that means you are able to hear Gun shots from a certain distance.
- Grenade Launchers on the M4a1 and M16 have been removed.
- Bullet drop has been removed from all guns except shotguns. Meaning the bullet will travel in a continuous path...
Hey piglets! It may seem that we've been kinda quiet these last few weeks, but we've been working our pigtails off to brimng you guys some awesome stuff!
Halloween sale! 25% off all items.
That's right! Everything is 25% off in the store. Grab up some treats while you can!
Old new spooky game... coming soon!
There's been a game lurking in the shadows of MineSwine for a while, that we decided should have some life brought back to it. I can't give away too many details yet,but it should be an extra scary great surprise!
Scary lobby updates [soon]
We have our build team hard at work spookifying our lobby. There also should be some fun new pets and items you can buy that are haloweentastic. Look for them in the lobby over the next few days.
Hello Piglets,

August 25, (Monday) we are going to be doing a complete factions reset. There has been some recent abuse and hacking that have given people the ability to get unlimited resources. So we feel the need to do a complete world and economy reset to give everyone a fresh and equal start. In addition to the reset, we will be adding a few new features to the factions server. Such as, more donor perks, auctions, casino, and more!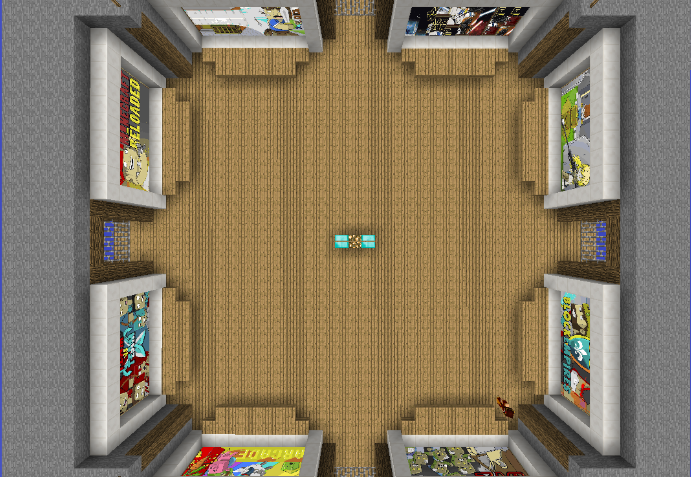 Recently we've been testing out some new features to put in our server lobbies. One of those features is custom map images for server logos. You might be thinking "maps take way to long to load though!". By some magical code we've figured how to make maps instantly load upon joining the server.

However, by loading all the maps instantly it can be heavy performance wise on the client. This is where we need your help to test out this new feature. We've setup a temporarily test lobby with these features on it which you can access by typing /testlobby in any of the main lobbies on the server. We'd much appreciate it if you could give us your feedback on how your performanced is affected upon joining the server. For example, are you using optifine, how long did you lag, does your FPS drop, client freezes, walking around causes lag, etc.

Notice: Some of the images on the walls are from previous games we've removed from the server, they're are not new games!...
Hey everybody!

During tonight's maintenance we made some major changes to our hosting and protection. Due to the recent problems with latency and lag we've changed to a completely new server hoster. In addition, we've also changed our DDoS protection provider that has more wide spread data centers across the globe. All of these changes should greatly increase the performance and general experience across the server.

Please let us know if you have any problems or having any latency and/or lag problems.

A lot of new forum/website and surprise updates will be coming later in the week!