Mineswine
VALENTINE'S DAY SALE!!! 30% OFF SALE + FREE CRATE!!!!
As some of you may or may not remember, 2 or so months ago I made an announcement saying that if we got 700 users on at once I would drop whatever I was doing and go remake jedicraft / a new gamemode. Well, I ended up doing that anyway even before we hit 700... and now, jeeze. In the short few months, we have nearly doubled our daily playerbase, and that is freaking exciting. I guess the next goal I have for the server is to hit 1000 online users, and we're gonna do it! Dilly's got some tricks up his sleeve, and when we do, well we're throwing a hogwild party. Now... onto the good stuff...
<3 VALENTINE'S DAY CRATES!! <3
For our next holiday crate, we are going to add some great stuff for you guys to get. Here's an overview:
2 new tracers:
Heart tracer
Red and pink tracer...
FIRST! We are sorry for the downtime recently. We have been doing a lot of updates, and they have been making the server sad
. We will continue to try and make sure the server stays up. Now for the big announcement...
SGRL Ranked play!

It's been nearly 3 years since we first released SGRL and it is still our most popular gamemode. The fast paced gameplay combined with the unique weapons and beautiful looking maps have helped contribute to this success. But one of the biggest reasons why SGRL has continued its popularity is its competitive factor. Players fight day and night just to try and get a win, best their friends, or take down a DesertEagle.

We want to expand on this competition with SGRL Ranked play. What will this be exactly? Well...

SGRL ranked play will be a separate server from normal SGRL that will pair players of similar skill level to fight.

Players will rank up through "Leagues" (S/A...
NEW VEHICLES!
These babies don't just look ungodly...they've got some awesome new features:
Now vehicles have their own dedicated inventory and slots for passengers. Your old inventory will be saved, incase you logoff/die/just wanna get out.

(most) vehicles have room for multiple passengers, some with, and some without guns. As the driver, youcan choose to lock the vehicle to outside passengers, incase you don't want friends.

Obviously, the looks are new. But we need feedback from you guys! If these new vehicles drop your FPS, we need ot know ASAP .

With that, these are in beta so expect some bugs.
Launchers
Launchers are a new type of weapon. They require a new type of ammo, both of which can be found in loot chests. Here are the 5 new launchers:
Bulldog
- A Semi-Auto timed grenade launcher, deals massive damage...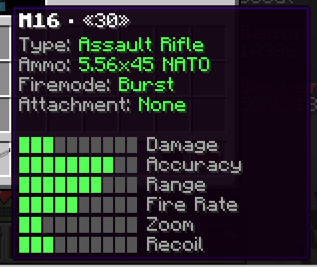 To start the year off, we wanted to go back and overhaul one of our oldest games, that being Survival Games with Guns.
Survival Games with Guns
- Added 3 new guns | Famas (Assault Rifle), Saiga12k (Shotgun), M95 (Sniper Rifle)
- Added 4 new attachments | Incendiary Rounds for Shotgun, Double Triggers for SMGs, FMJ (Goes through blocks) for Sniper Rifles, Fire Mode Switcher for Assault Rifles.
- Added 3 new maps | Sector Six, University, Zone85
- Added 3 new deathmatch maps | City (Old SGRL Lobby), Factory, Highway
- Gun sounds have been completely revamped, each gun now has it's own custom fire sound and reloading sequence.
- Ricochet sounds added for bullets that impact blocks near you.
- Glass panes now break when damaged by bullets, glass blocks will be added soon as well after we change the map barriers.
- Leaf blocks can now be destroyed.
- Parkour has been added to the game lobby.
- Revamped all gun stats and UI, each gun now shows a graphical...
I hope everyone had a good holiday, and a happy new year. While all of you little piglets were out celebrating, we were all busy in our coding dungeon working on updates for MineSwine. Here's what's coming up:

Hub Items:
That's right FINALLY we are adding cosmetics to the hub. You will be able to deck yourself out with some of the coolest effects ever found in Minecraft. We plan to allow you to do most of the effects in any gamemode, however further testing will have to find out if this is something that is feasible. You will be able to purchase crates with a random hub item in it with pork chops, or buy even better crates with the chance for a legendary hub item with money.

3D Vehicles:
So...

...need I say more?

Stat tracker
I thought to myself the other day 'Man wouldn't it be cool if you could keep track of the number of kills you get with a gun + get swag when you get a certain amount of kills". Well, that's what's coming up. These will look like...
Happy holidays piggies!

I hope you all are excited for the winter season over at MineSwine, because we have some cool stuff lined up!

Gun tracers:
Now a crate-exclusive item, you can find special tracers you can attach to your guns to leave a trail of particles behind your bullet. Some of these will just be single colored, others multicolored, or even cool effects. You can add as many tracers to a gun as you want, the tracers will even make the gun soulbound! For now, these items will be crate exclusive, however in the future we plan to add them to loot chests.

SPEAKING OF CRATES.... HOLIDAY CRATES!
Well, ol' dilly was feeling a little jolly, and he decided that this winter there are going to be exclusive holiday crates you can purchase. These crates will contain only the goodiest of goodies, with only rare and legendary items in them - plus a few new cosmetic items - like tracers. More info will come later about what these tracers for this crate will look...
Hey piglets! If you haven't noticed, we have attachments on Jedicraft now. Here's a rundown of all of them:
Armor piercing Attaching this to any gun will have it deal additional damage to vehicles
High powered scope Put this on a sniper, and you will get better accuracy + more zoom.
Full Automatic Make your pistols shoot fully auto instead of single fire.
Slug Change the shotguns bullets to shoot as 1 large damaging projectile instead of a spread.
Laser Drill Penetrate through blocks and deal more damage with this baby
LASER EXPLOSIVE CRATE ONLY! Your bullets do extra damage and oh yeah they FREAKING EXPLODE! This thing is sick, and you can only get it in crates (also makes your weapons soulbound .
You can find all of these except for the laster explosive in loot chests.

SO WHAT'S COMING UP?...
I think I was too quick to end the beta. This week has been a mess on Jedicraft, with bugs galore, and a money glitch that countless people abused. Unfortunately, a lot of people's stuff got reset, and a lot of people also got a ton of money. I haven't made this decision lightly, but when you wakeup tomorrow, you'll be greeted with the beta package.

Here's the good news tho. Starting over I can fix a lot of problems with the old system, and make the new one much more sustainable and efficient. If you purchased something, you'll get it back fresh and wrapped up for you. I appreciate you all sticking with me, I expect this reset to not go over so well, and I'm sorry for that. This has been a difficult server to manage and release, and I'm doing my best to make sure it goes over well.

Anyways, once again, thank you for your patience. let's hope jedicraft 2.0 doesn't need a reset for a lonnnng time.

(ALSO, you will get a free crate when you first join now because of the reset....I...
Alright, we have another jedicraft server up and ready to go. Come join it and test it out. All your stuff should stay persistent between the two (if it doesn't let me know
).
Also... this weekend, we're getting attachments. Including a new
legendary attachment
for crates! More details on all of that later this week. Till then, if you're in the states have a nice turkey day, and if not have a nice thursday x).
SOOOOO...release went really well huh?
600+ players on mineswine
300+ on jedicraft (almsot 400
).
Unfortunately, we have a good problem, there's too many players on jedicraft and the server is laggin
. So, starting monday we're going to have 2 jedicraft servers (3 if we need it). However, the only difference between the servers is gonna be who's on there because your inventory, health, hunger, everything, will save between the different servers. I'm going to call this a semi-beta because data between servers can always cause some bugs, at any rate let me know what ya'll think... oh and thanks so much for supporting jedicraft, really awesome stuff coming up hopefully we can maintain the same amount of popularity ;D.