Mineswine
Hello Users,
We are glad to announce that MineSwine is NOT dead!
@xXCapzXx
got a response from
@dillyg10
that they're just waiting for a new Minecraft version, yep that can take a bit of Time but hey atleast now we know that something will happen soon! Even though it will be hard waiting because 1.9 doesn't have an release date yet, but just look forward because now we know that the Server won't be shutdown!
Here is the Picture of Capz and dillygs conversation:
Try out the all new factions PvP server! Level your way up through the mcMMO level system, create your own faction and claim land, thrive in the economy system and earn money to sell and buy items, and much more!
Enjoy building? Then this server is for you! Get unlimited resources to build whatever your imagination can come up with! Each player gets his/her own plot to build on, and they may add other players to their plot if they want too.


Along with these new servers, comes new perks! Check out the server store here for the new perks.

​
Nothing major yet, just some bug fixes. News on Jedicraft, a new game, and hub items coming soon! It's gonna be awesome
Bug Fixes:
Fixed an issue with players not being able to activate stone pressure plates
Fixed an issue with splash potion affects not applying any affects
Reconfigured out anti-cheat system. Should fix problems with standing on fences, gun recoil, etc.
Made some major performance upgrades to hub lobby software, should be lag free now! Let us know your experience.
Fixed some issues with the new gun Reloading UI which caused it to reset or disappear randomly.
Hub user nameplate tags (Above players heads) have been temporarily disabled well we monitor server performances. Will be re-added within the next day or so.
Made performance adjustments to parties, will re-enable them later this week.
Removed /spawn and /home commands taking you to hub in preparation for adding Factions and Creative back.
Community:
...
​
General:
Tournament holograms in the lobby have been removed and replaced with informational MineSwine links!
Fixed a bug where Boars were only getting X2 Bacon with the Piglet Msg. You're now given the correct X3 Bacon and the Boar Msg.
Fixed a bug for Piglet and Boars that caused them not to be able to join full game servers.
Fixed /lobby or /hub only working half the time.
Fixed an issue with the server store which was updating new purchased packages to the server every 5 hours, instead of every 5 minutes.
Redesigned the server store.
Added Monthly ranks to the store and modified rank pricing.
Boar votes now count as 3 for map voting. Piglet votes now count as 2 for map voting.
Other random server improvements and performance increases.
Added vines to the leaves in the game lobbies so players can climb up them from the water.
Changed 'Staff Member' banner color to blue on the forums. Staff rank banner colors...
Winners
1st
- FanMilk with 83 Wins
2nd
- RmxzPvP with 53 Wins
3rd
- teeb1234 with 52 Wins
Honorable Mentions
Arcanine50cal - 112 Wins (Staff)
jackalantern45 - 51 Wins
MaverickDog - 45 Wins
BukLau21 - 42 Wins
LEGO_TNT - 40 Wins
Juan4002 - 27 Wins
minecraft1012 - 24 Wins
nitro_nator123 - 21 Wins
cool__dude - 20 Wins
CorporalBLOBER - 19 Wins
​
If you have won something please contact me via PM and send me your address so we can get you your prizes!
Thanks to everyone for coming out and competing in the first ever MineSwine tournament! There will be more sometime in the future! Obviously as this was the first time, there was some bugs with the stats showing up in the lobby but these will be fixed by the time we have our next tournament!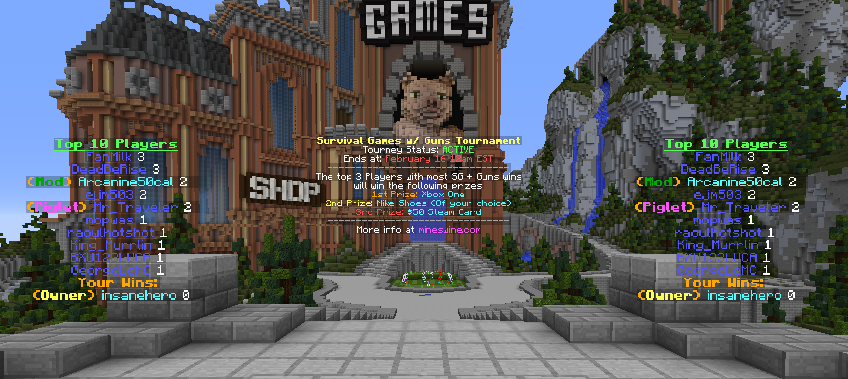 Check your wins in the main hub lobbies! These stats are only temporary during the tournament, in the next few updates will be adding a full stat tracking system server-wide.
This tournament has been changed to only a Survival Games with Guns tournament and not normal SG.
The tournament will end on
February 16 @ 12am EST
. (End of the day of February 15)
Prizes:

In order to claim your prize you must be willing to give out your mailing address. We assure you your info will be kept safe.
1st Prize
- Xbox One
2nd Prize
- Nike Shoes (Of the winners choice)
3rd Prize
- $50 Steam Card
In response to various reports of 'fly hackers' on our SG servers we've made our anti-fly mechanism stricter as preparation for the tourney.
Any players found using cheats (hacks) or any exploits will be disqualified from the tournament.
Mineswine Survival Games TOURNAMENT!

February 14-15​
In the recent update new update the servers in-game currency is now known as 'Coins'. However, we would like to hear from the community to see what you guys prefer.

Cast your vote in the poll above to help us find the best name for our servers currency!

If you have your own idea for our servers currency name post it below and I'll add it to the poll.
Many of you have been waiting a long time for this, and it's finally out! As of today the server update has been released!
General Changes
The permissions system has been overhauled. Ranks now instantly update along with prefixes and user name plates.
Fixed a major bug where permissions would randomly get dropped server wide.
Rank prefixes now have a new format and color scheme.
Porkchops have been renamed to Coins (We may revert the name back to Porkchops if the community wants)
Unfortunately, due to our major changes in our server infrastructure in the update all previous Porkchop player data counts and kits have been lost. We sincerely apologize for this, but there was no other way to keep the old data when updating to the new infrastructure.
Party system has been reworked. The UI should now be at lot easier to navigate and manage.
Game waiting lobbies have been rebuilt and are now the same lobby for all games to keep consistency.
...

​
As you may have noticed we've made a lot of changes to the website. The new website is just another part of the complete server remodel which is coming soon! Mineswine also has a new logo!
Website Remodel: Part 1
[COMPLETED]
- New logo
- New theme for the general forum and website body
- Updated color scheme to match the new logo
- Staff members now have colored names to show their respective rank group.
- Site header has been replaced with a new custom design
- The server player count is now shown in the header
- Various performance tweaks
Coming soon...
Website Remodel: Part 2
[COMPLETED]
- Applications, Ban reports/appeals, and purchase issues are now private to only the posting member and staff members.
- Server shop updated to fit the new site
- Achievements
- Signature size limits
- Re-add teamspeak sidebar module
- Compatible with mobile
- And more!
Let us know what you think about...